How to Apply
The Psychiatry Residency at the McGaw Medical Center of Northwestern University is fully accredited by the Accreditation Council for Graduate Medical Education. Our program only accepts applications through the Electronic Residency Application Service (ERAS) for PGY-1 positions; all other inquiries are not accepted.
We offer two tracks for nine positions annually: 
Categorical (NRMP Program Code: 2247400C0)
This is the main residency match for PGY-1 applicants.
Research Track/PSTP (NRMP Program Code: 2247400C1)
This is for our R25-funded Research Track position for residents who have extensive research backgrounds and would like to pursue a career as a clinician-scientist. Refer to the Starzl Academy Physician Scientist Training Program page for application instructions.
Additionally, we offer a medical education track for accepted residents:
Clinical Educator Track
Residents can apply to our Clinical Educator Track after acceptance into the McGaw Medical Education Clinical Scholars Program, a two-year competency-based medical education certificate program to provide them with training in educational theory and teaching in a variety of settings. Residents can apply to the scholars program at the end of their PGY-1 year; for application details, visit the McGaw website.
McGaw sponsors J1, H1B and F1 visas. Please visit the McGaw website for visa, salary and benefit information. A sample resident contract is also available.
Required Application Materials
We participate in the NRMP Match. Applications are submitted to ERAS through your medical school dean's office or the Educational Commission for Foreign Medical Graduates (ECFMG). Please contact your medical school student affairs or dean's office or the ECFMG for instructions. Applications will not be accepted via fax, mail or email. The following materials are required:
Complete ERAS application, including supplemental application
USMLE scores (Part I required; Part II is optional but preferred)
A recent photograph (optional; helpful in refreshing memories for ranking purposes)
Three letters of recommendation
Medical Student Performance Evaluation (MSPE)
Medical school transcript
Personal statement
Deadlines
In accordance with the ERAS 2023 timeline for residency applicants, applications should be submitted by September 29. No interview offers will be made before MSPEs are received.
Interviews
Interviews are conducted virtually from October to January. We will only send as many invitations as we have interview spots. Candidates will interview with faculty and residents on the interview day. Additional information about the interview day will be sent along with interview invitations. We realize that medical student schedules may be demanding, and students may need time to coordinate interview schedules. Applicants will have 72 hours to accept or decline an invitation to interview. We send invitations to interview out at 5 p.m. CDT/CST so that applicants can avoid checking email earlier in the day about interview requests.
Contact Us
Should you have any questions, please do not hesitate to contact our housestaff coordinator.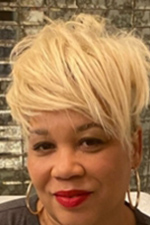 Mia Reed
Housestaff Coordinator
mccollin@nm.org
312-926-8058