Consultation-Liaison Psychiatry
Graduates of the 12-month, ACGME-accredited Consultation-Liaison Psychiatry Fellowship Program satisfy all requirements and are eligible to take the ABPN subspecialty certification examination.
Consultation-liaison psychiatrists are boarded subspecialists who have advanced training and experience in evaluating and treating patients in an interdisciplinary setting. They are very comfortable helping patients with complex medical problems that may exacerbate, or be exacerbated by, psychiatric symptoms. We provide consultation to the medical and surgical inpatient services at Northwestern Memorial Hospital, Prentice Women's Hospital and Shirley Ryan AbilityLab. The division also provides co-located care in other medical specialties and has a large collaborative care program in primary care.
In addition to providing evaluation and recommendations for patients with a wide variety of psychiatric illnesses, our faculty includes individuals with special expertise in the areas of neuropsychiatry, collaborative care, addiction treatment, catatonia, HIV, organ transplantation, medical ethics and forensic psychiatry. Our goals are to provide comprehensive biopsychosocial diagnosis and treatment recommendations, to work closely with the primary medical and surgical teams to maximize patient holistic recovery, and to assist all members of medical and surgical teams to work effectively with all types of patients.
About Our Program
This is an ACGME-accredited training program for individuals who have successfully completed a four-year psychiatry residency program in the United States or Canada. At the current time, the complement for the fellowship is one position.
The majority of Consultation–Liaison fellowship programs will be utilizing the Electronic Residency Application Service (ERAS) and National Residency Matching Program (NRMP) to recruit for the fellowship class starting July 1, 2024. McGaw Medical Center of Northwestern University Consultation-Liaison Fellowship will only accept applications submitted via ERAS and NRMP Match. Applicants may submit their application to the ERAS service starting July 5, 2023.  For more information on the application process, ranking lists deadline, and Match Day please visit the ERAS website and the NRMP website.
The scope of practice for consultation-liaison psychiatrists includes caring for patients with psychopathology encountered in any medical setting, including inpatient and outpatient medical, surgical, and obstetrical areas.
The goals and objectives of this program are to provide supervised clinical training in all settings in order for the fellow to acquire the knowledge and skill involving direct patient care as a member of a multidisciplinary healthcare team.
Fellows are encouraged to participate in the rich academic environment of Northwestern University. Program-specific learning experiences include:
Weekly individual didactics
Individual weekly supervision with an independent supervisor
Bedside rounds with a diverse group of learners, including medical students, physician assistant students, junior and senior Psychiatry residents, Neurology residents, fellows from other psychiatry subspecialties, anesthesia pain and palliative care, and psychology students
Access to weekly departmental grand rounds, health system ethics conferences and monthly interdisciplinary fellows conference
A variety of academic and research projects (All fellows are required to complete an academic project with support. Fellows are encouraged to participate in a mentored submission of a poster or workshop to the ACLP annual meeting to be presented during their fellowship year.)
Invitation to weekly neuroradiology grand rounds at the Shirley Ryan AbilityLab
Leadership and academic mentoring options in the Academy of Consultation-Liaison Psychiatry through a faculty group involved in several committee positions, educational efforts, the Webb Fellowship and yearly conference
Consultation-liaison fellows provide psychiatric services to patients at other Northwestern Medicine departments, including internal medicine, general and specialty surgery, intensive care, rehabilitation medicine, oncology, transplant and neurology.
Clinical training includes extensive experience in medically oriented psychiatric consultation to gain the skills and experience necessary to evaluate and treat complex psychiatric problems. The curriculum consists of inpatient rotations in the general medical and surgical setting of Northwestern Memorial Hospital, Prentice Women's Hospital and Shirley Ryan AbilityLab
Longitudinal outpatient experiences include:
Elective highlights:
Neuromodulation experience and the option of ECT certification
Forensic supervision and clinical experience, including consulting for cases of civil commitment and involuntary treatment
Women's behavioral health program
Addiction treatment
Program Letter of Agreement with Memorial Sloan Kettering in NYC for electives
Neuropsychiatry
Our program strongly values a healthy work-life balance and supports it in several ways:
A generous benefits package with special recognition of the need for time away from training, in addition to a well-above average stipend
Access to regularly scheduled wellness activities and resources
An active Diversity and Inclusion office dedicated to residents and fellows
No weekend or after-hours call
Competitive moonlighting opportunities within Northwestern Memorial Hospital and several other institutions in the Chicago area
Learn more about life in our diverse and vibrant community on our Why Northwestern? page.
"My fellowship at Northwestern was tremendously valuable, offering a variety of clinical experiences and high-quality supervision. I particularly enjoyed the opportunities to learn by teaching other trainees."

Mark Newman, MD 
Assistant Professor
University of Washington
"I am grateful for the outstanding mentorship during the program and appreciated the breadth of knowledge I gained in working with neuropsychiatrists, internist-psychiatrists and experts in psycho-oncology, PM&R and organ transplantation. I also valued the diversity of clinical experiences, including providing patient care at Northwestern's world-famous rehabilitation hospital."

Geetha Reddy, MD, MPH
Associate Physician Diplomate
Volunteer Assistant Clinical Professor
University of California, Davis

"The PSM fellowship at Northwestern provided a bounty of educational opportunities that fostered my learning and professional growth. With the subspecialty training I gained at Northwestern, I felt further prepared to apply my skills as an academic consultation-liaison psychiatrist."

 



Sheila Lahijani, MD
Clinical Associate Professor 
Psychiatry and Behavioral Sciences
Stanford University
"The fellowship at Northwestern is very flexible, and there are multiple clinical sites within other departments that create an array of opportunities for training. This allows fellows to specialize within an area during their training while still maintaining a broad exposure to our field. In particular, organ transplantation, cardiology, oncology, physical medicine and rehabilitation, women's mental health and palliative care are all strengths at our campus."

R. Brett Lloyd, MD, PhD
Associate Residency Program Director
Department of Psychiatry & Behavioral Sciences
Northwestern University Feinberg School of Medicine
"The volume and diversity of patients of the general consultation-liaison service provided me with the opportunity to acquire the essential knowledge and skills to become a consultation-liaison psychiatrist. At the same time, it was the faculty's diverse expertise and their devotion for mentorship and teaching that allowed me to reach much further beyond what is essentially needed."

Gabriel Heiber, MD
Clinical Instructor
Department of Psychiatry & Behavioral Sciences
Northwestern University Feinberg School of Medicine
Veronika Hanko, MD
Clinical Instructor
Department of Psychiatry & Behavioral Sciences
Northwestern University Feinberg School of Medicine
Why Train With Us?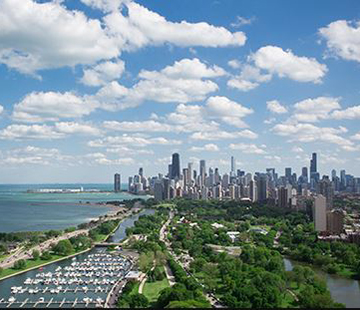 The Department of Psychiatry & Behavioral Sciences at Northwestern University Feinberg School of Medicine provides diverse clinical experiences and world-class education in the heart of the beautiful city of Chicago.