Forensic Psychiatry
Northwestern's one-year, full-time, ACGME-accredited Forensic Psychiatry Fellowship Program is designed to develop proficiency in all aspects of forensic psychiatric practice.
Our program is dedicated to providing world-class training at the intersection of mental health issues and the law. This includes matters of civil, criminal and administrative law as well as evaluation and specialized treatment of individuals involved with the legal system at a variety of levels, including those incarcerated in jails, prisons and forensic psychiatric hospitals. Forensic psychiatry is formally recognized as a subspecialty by the American Board of Psychiatry and Neurology, which offers added qualifications and board certification in this field.
Fellows develop proficiency in all aspects of forensic psychiatric practice through our didactic curriculum and supervised clinical experiences. Fellows learn to provide ethical professional expert services in civil and criminal forensic evaluations, to effectively interface with the legal system to promote understanding of psychiatric issues, and to understand the principles of psychiatric treatment in justice-involved settings. We strive to develop leaders, scholars and clinicians in the field of forensic psychiatry.
About Our Program
Qualified applicants must have satisfactorily completed an ACGME-accredited general psychiatry residency program in the United States or a general psychiatry program in Canada, which is accredited by the RCPSC.
The ACGME Review Committee for Psychiatry does not allow exceptions to the eligibility requirements for fellowship programs.
Applications for the Forensic Psychiatry Fellowship are made by residents who have completed or are in the process of completing the third year of general psychiatry residency training. We use the Common Application from the Association of Directors of Forensic Psychiatry Fellowships available here. We adhere to the timeline for the Common Application.
Email all application materials as a PDF to Elijah Horton, Program Coordinator, at elijah.horton@nm.org, and copy Dr. Scott Gershan at Scott.Gershan@nm.org. The subject line of your email should be: Forensic Fellowship Application APPLICANT LAST NAME, APPLICANT FIRST NAME.
Please do not send documents by mail (other than the official copy of medical school transcript and dean's [MSPE] letter that must be sent directly to Northwestern from the medical school).
To apply, complete and return the following required documentation:
Common Application form
Photo
Curriculum vitae
Personal statement of one single-spaced page, maximum, that explains your interest and/or experience in forensic psychiatry
At least one additional writing sample (e.g., de-identified forensic report or psychiatric evaluation, published manuscript of which you are the first author)
Copy of medical school diploma
Copy of ECFMG certificate (if applicable)
Copy of current medical license(s)
Copy of USMLE/COMLEX scores
Three letters of reference, one of which must be from your current program director or, if you have completed training within the past five years, the director of the program from which you graduated most recently (letters should be sent from the letter-writer directly to Northwestern)
Official copy of medical school transcript and dean's (MSPE) letter sent directly to Northwestern from the medical school
One half-day per week is devoted to the didactic seminar series, which includes presentations by guest speakers and fellowship faculty on clinical and legal issues relating to criminal and civil forensic psychiatry at national and local levels. The didactic seminars provide training in civil, criminal, clinical, consultative and correctional forensic psychiatry. Lectures target landmark cases, forensic evaluations, report writing, court testimony and treatment in correctional settings. The forensic teaching staff consists of forensic psychiatrists and psychologists, attorneys, and law enforcement personnel. Teaching activities involve case consultation, peer review and didactic seminars. The program is designed to facilitate the forensic fellow's successful completion of the American Board of Psychiatry and Neurology board examination for the Added Qualifications in Forensic Psychiatry. Barbara Kahn, JD, a lecturer in the Department of Psychiatry & Behavioral Sciences and adjunct faculty at Northwestern University Pritzker School of Law, developed and oversees the didactic seminar curriculum for the fellowship.
In addition, fellows participate in a monthly forensic division journal club and research talks, and attend weekly Department of Psychiatry grand rounds. Fellows have weekly rotation-specific supervision and regular meetings with the program director, Scott Gershan, MD, and the division director, Stephen Dinwiddie, MD. Fellows also have ongoing supervision with James Cavanaugh, MD, the senior associate of Cavanaugh & Associates and former chairman of the board of directors at Isaac Ray Center, Inc., a private forensic behavioral science group.
We designed our clinical rotations with the goal that our graduating fellows will be prepared to function independently as forensic psychiatrists in diverse settings. Fellows have opportunities to provide correctional psychiatric care, testify in court, participate in forensic evaluations in civil and criminal matters across a wide range of settings, and work with numerous faculty members to develop a broad perspective of the field of forensic psychiatry.
Division of Forensic Psychiatry, Northwestern Medical Group
The Northwestern Medical Group faculty members provide forensic-psychiatric evaluations and consultation services to lawyers and administrative agencies (e.g., insurance companies, employers, licensing boards) regarding civil and criminal psychiatric-legal questions. During this yearlong rotation, fellows are trained in conducting forensic evaluations (including review of clinical, legal and other collateral records as well as forensic psychiatric interviews), writing forensic psychiatric reports, communicating with attorneys and other referral sources, and providing testimony in depositions and trials. The types of civil and criminal cases include: criminal responsibility, competency to stand trial, sentences of criminal offenders, sexual and other types of misconduct, personal injury and emotional harms, employment disability, guardianship, asylum, malpractice, workers' compensation, and termination of parental rights, among other psychiatric-legal issues. If a fellow has a particular area of expertise that they would like to develop, every effort is made to accommodate this.
Cook County Juvenile Court Clinic (CCJCC)
CCJCC is a forensic clinic that is a non-judicial office under the authority of Timothy C. Evans, chief judge of the Circuit Court of Cook County. CCJCC is operated by Northwestern University through a contract with Cook County. CCJCC provides a variety of services responding to requests from juvenile court judges for mental health information in the context of court proceedings, including court-ordered forensic evaluations, identification of community-based mental health resources, and referrals to court-related entities and agencies. Fellows are trained in and conduct evaluations for the Juvenile Justice Division. 
Jesse Brown VA Medical Center
The Jesse Brown VA has served almost one million veterans. During this rotation, fellows are trained in the assessment of psychiatric disability, of decision-making capacity and of malingering by conducting assessments in the pensions and disabilities program under the supervision of forensic psychiatrists.
Stateville Correctional Center
During this six-month rotation, fellows are trained to conduct psychiatric evaluations relevant to correctional issues and to provide treatment to prisoners in this state prison setting. Fellows learn principles of correctional psychiatric care, including ethical issues, prescribing processes in a correctional setting and diagnostic assessment.
Northwestern Memorial Hospital, Mental Health Court Clinic
The Mental Health Court at Northwestern Memorial Hospital (NMH) adjudicates civil commitment, involuntary treatment and assisted outpatient treatment cases, among other matters. Forensic psychiatric fellows, under the supervision of an attending physician, consult with physicians treating hospitalized patients on medical and surgical teams as well as civilly committed patients on NMH inpatient psychiatric service. These cases involve civil commitment and dangerousness, confidentiality, refusal of treatment, decision-making competence and guardianship. Fellows provide forensic psychiatric evaluations on the need for court-ordered medications, civil commitment and/or assisted outpatient treatment and, when appropriate, write reports for the court and provide testimony. Fellows also provide consultations to general psychiatric services regarding issues of dangerousness, confidentiality, refusal of treatment, decision-making competence and guardianship for patients from diverse backgrounds with a wide range of psychiatric diagnoses.
Fellows have protected time to engage a scholarly or research project with mentorship tailored to their particular interests. Fellows present their project to the division at the end of the fellowship year.
Once accepted to Northwestern, fellows with an interest in research may apply to the Cavanaugh Fellowship in Forensic Psychiatry. This initiative provides financial support for incoming Northwestern forensic psychiatry fellows who demonstrate promise in the area of forensic mental health research, as well as potential for an academic career. The awards are merit-based and require incoming fellows to submit a research proposal. The inaugural recipient (2020) was Alex Rose, MD, whose research project involved a legal review of the use of factitious disorder diagnosis in the courts.
Cavanaugh fellows are mentored by Michael Brook, PhD, the director of the Isaac Ray Research Program in Behavioral Sciences and the Law at Northwestern Medicine. The mission of the Isaac Ray Research Program is to champion multidisciplinary research at the intersection of human behavior and legal systems, in order to develop evidence-based interventions, improve public policy and advance justice. The Isaac Ray Research Program was established in 2018 with a charitable endowment from James L. Cavanaugh, MD. Cavanaugh founded the Isaac Ray Center in 1979. Over 40 years, the Isaac Ray Center research division published hundreds of articles and book chapters contributing to the field of forensic psychiatry. Upon Cavanaugh's retirement, the assets of the Isaac Ray Center were transferred to the Northwestern Memorial Foundation to establish the Isaac Ray Research Program in Behavioral Sciences and the Law at Northwestern Medicine, within the Department of Psychiatry & Behavioral Sciences, to continue advancing research in the field.
Why Train With Us?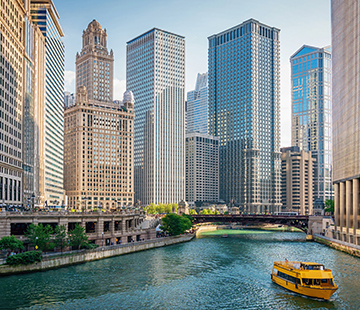 The Department of Psychiatry & Behavioral Sciences at Northwestern University Feinberg School of Medicine provides diverse clinical experiences and world-class education in the heart of the beautiful city of Chicago.