Curriculum Overview
Didactics
The Northwestern Psychiatry Residency program provides high quality didactics to complement clinical rotations and experiential learning at clinical sites. Didactics occur during weekly protected time. We have developed longitudinal courses that aim to build on previous years to develop depth and breadth of knowledge. Each year, we adjust and improve the curriculum based on resident and faculty feedback. We strive to use best practices in adult learning, like case-based learning, simulation, and other active learning approaches.
Fundamentals
Much of the initial didactic time in intern year is dedicated to mastering the fundamentals of psychiatry. For example, in the first month of training, residents participate in a boot camp, focusing on the mental status exam, suicide risk assessment, writing an H&P, conducting a diagnostic interview, assessing capacity and executing those skills in an acute care setting like the emergency department. In the second year, they receive instruction from a dual boarded Internal Medicine/Psychiatrist on managing commonly seen medical conditions. In the third year, residents take a course to ease the transition to outpatient and address topics specific to outpatient practice.
Academic Psychiatry
All residents participate in monthly journal club with the chair or other senior faculty members to learn the principles of scientific inquiry and how to read psychiatric and apply psychiatric research. They attend weekly grand rounds, where diverse faculty from across the institution and country present on timely topics in psychiatry. Third- and fourth-year residents have courses on ethics specific to psychiatry. Third year residents engage in a quality improvement course. Senior neurology residents provide reviews on requested neurologic topics to our graduating fourth year residents. Our third- and fourth-year residents each pick a controversial topic in psychiatry to research and present their findings in our Controversies in Psychiatry course. This innovative course ties together instruction in scientific inquiry principles and provides an opportunity for residents to use best practices in didactic instruction for adult learners. Residents often choose to use their Controversies topic as a jumping off point for scholarly research. All residents are invited to attend the monthly research track lunch seminar. Residents may also opt to participate in monthly medical education workshops to improve their skills as teachers. Residents may also choose to attend the monthly Friday Research Digest, where faculty members present research in progress over lunch. This is a great opportunity for residents to meet research faculty informally and identify potential mentors.
Psychopathology
Psychopathology begins in intern year and second year with a focus on the major psychopathologies examined through the lens of phenomenology. The major topics are revisited in third year with topic experts who discuss uncommon presentations, undervalued or overlooked treatments, and the expertise that years of practice develops.
Psychopharmacology
Psychopharmacology starts in intern year with a very thorough discussion medication classes, indications, uses, and mechanism of action. Intermediate psychopharmacology in the second and third years covers more niche topics with a greater focus on cases, discussion of risks and benefits, treatment costs, and more complex scenarios. In fourth year, residents attend a seminar on advanced treatments to cover in detail medication as well as other somatic treatments with an expert psychopharmacologist.
Psychotherapy
Residents have their first didactic course in psychodynamic psychotherapy in their second year. In the second half of their second year, they participate in Immersion Clinic. They take turns completing a therapy intake and then will continue to see that patient through the rest of the semester. All PGY2s see their cases for the first hour of the class and return as a group to participate in supervision where the fundamentals of psychodynamic psychotherapy are applied to their cases. In third year, they receive formal teaching in cognitive behavioral therapy as they begin to see CBT patients and participate in group CBT supervision. They have additional didactic instruction in psychodynamic psychotherapy as well as shorter discussions of other types of therapy like dialectical behavioral therapy, cognitive behavioral therapy for insomnia, as well as acceptance and commitment therapy. Additionally, residents show video recordings of psychodynamic therapy sessions and receive feedback from a rotating group of psychotherapy supervisors. In fourth year, residents receive instruction in family therapy alongside an immersive experience in couples therapy at the Family Institute.
Health Disparities
Residents will have a progressive series of courses in the second, third, and fourth year on the social determinants of health. They also receive instruction from experts in eating disorders, adolescent psychiatry, and LGBTQ mental health.
Brain and Behavior
The future of psychiatry training will undoubtedly incorporate and rely on our improving understanding of the brain. Brain and behavior courses in the intern and fourth year aim to improve the residents' knowledge of and comfort with neuroanatomy. This is an area that we expect will expand and become more naturally ingrained in other courses.
Subspecialty
We provide our residents with experiences in the psychiatric subspecialties to help them decide if they want to pursue subspecialty training as well as to provide them with a level of familiarity in managing these populations. The didactic courses are an important part of the experience. They receive formal instruction in forensic psychiatry, child and adolescent psychiatry, geriatric psychiatry, consultation liaison psychiatry, women's psychiatry, and neuropsychiatry.
History of Psychiatry
Our interns participate in a course meant to review the history of the field of psychiatry using landmark papers as a guide. These historical perspectives are often considered in the Controversies in Psychiatry course.
Case Conferences
After getting the foundations of being a psychiatrist under their belt in the first two years, our third- and fourth-year residents participate in a number of case conferences through various lenses. A weekly outpatient case conference allows senior residents to teach each other using their cases. The neuropsychiatry case conference provides senior residents with additional exposure to less commonly encountered cases with a neuropsychiatric diagnosis. The integrative case conference in fourth years pairs our residents with an expert in systems-based practice and complex cases.
Examples of didactic classes include:
PGY-1: History of Psychiatry, Introduction to Interviewing and Case Formulation, Consultation-Liaison Psychiatry, Introduction to Psychopharmacology, Introduction to Psychopathology, Emergency Psychiatry, Brain and Behavior
PGY-2: Psychopathology, Psychopharmacology, Child and Adolescent Psychiatry, Cultural Psychiatry and Social Determinants of Mental Health, Supportive and Psychodynamic Psychotherapy, Forensic Psychiatry, Ethics
PGY-3: Character and Neurosis, Advanced Psychopathology and Psychopharmacology, Psychodynamic Psychiatry Case Conference, Adolescent Psychiatry, Borderline Personality Disorder, Family and Marital Therapy, Quality Improvement, Ethics, Cultural Psychiatry and Social Determinants of Mental Health, Neuroscience Case Conference
PGY-4: Professional Transitions, Advanced Psychopharmacology, Advanced Psychodynamic Case Conference, Neuroscience Case Conference, Ethics, Cultural Psychiatry and Social Determinants of Mental Health, Family Therapy, Advanced Treatment Seminar, Advanced Brain and Behavior
Specialized Programs
We offer two specialty tracks for residents with a career focus on research or medical education. The McGaw Clinical Scholars Programs are also available to complement clinical training for residents or fellows with interests in bioethics, global health, health equity and advocacy, or medical education career paths. Additionally available to residents is the Kellogg Fast-Track MBA Program, designed to prepare trainees for leadership roles in healthcare systems and organizations.
Contact Us
For more information about the program, contact our housestaff coordinator.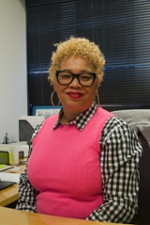 Mia Reed
Program Director
mccollin@nm.org
312-926-8058