Chair's Message
It is a privilege and honor to have been selected to lead the Department of Psychiatry & Behavioral Sciences at Northwestern University Feinberg School of Medicine as it embarks on an era of substantial expansion of its tripartite academic missions. While the increasing recognition that mental health and wellness are core components of a healthy and thriving society has stimulated a more open national discussion about our collective mental health, challenges in access to care and advancement of novel diagnostic and treatment modalities remain substantial.
The Department of Psychiatry & Behavioral Sciences is poised to meet these great challenges in behavioral healthcare, education of behavioral health workforce and research into the causes and cures for mental illness and delivery of better care for patients. Guided by our "patients first" principle, we are embarking on substantial growth with the department to meet the behavioral health needs of the region. We are dedicated to expansion of psychiatric specialty services, hospital-based care, neuromodulation and emerging interventional modalities. With the critical need for novel treatments and new insights into the mechanisms underlying mental illness, we are recruiting national leaders in psychiatric neuroscience and continuing expansion of clinical research, health services and disparities research, and implementation sciences relevant to behavioral healthcare delivery.
I welcome you to review descriptions of our clinical, educational and research programs described herein and welcome your feedback. 
Our Vision
We have a collective vision to be a nationally recognized leader in innovative, patient-centered and collaborative behavioral healthcare, to educate the next generation of behavioral health clinicians and academic leaders, and to be on the forefront of translational and clinical research. 
This vision will be realized by our commitment to the following tripartite missions:
To provide exceptional patient care by holding ourselves to the highest standards of patient-centered, evidence-based care; developing innovative treatment models; increasing access to behavioral health services; and recruiting and retaining a workforce that reflects the patients we serve.
To provide trainees with a safe, inclusive and rigorous experience that prepares them to become the behavioral health providers and academic leaders of the future.
To elucidate mechanisms underlying mental illness, discover innovative treatments for our patients and to understand and ameliorate mental healthcare disparities.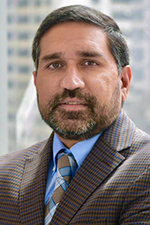 Sachin Patel, MD, PhD
Chair, Department of Psychiatry & Behavioral Sciences
Lizzie Gilman Professor of Psychiatry & Behavioral Sciences