Geriatric Psychiatry
Graduates of the 12-month, ACGME-accredited program in geriatric psychiatry satisfy all requirements of and are eligible to take the ABPN subspecialty certification examination. An optional second fellowship year is available for candidates seeking additional training as a physician-scientist.
Our program produces specialists in the delivery of skilled and comprehensive psychiatric medical care of older adults suffering from psychiatric and neuropsychiatric disorders. Our clinical programs emphasize expert diagnosis, early intervention, continuity of care, and access to new therapies and clinical research protocols.
About Our Program
The Geriatric Psychiatry Fellowship is an ACGME-accredited training program for individuals who have successfully completed a four-year psychiatry residency program in the United States or Canada. At the current time, the complement for the fellowship is one position.
Applications for the academic year 2022-2023 are currently being accepted.
Applicants must complete a Northwestern University application, which can be accessed at the McGaw website. The application must include the following documents:
Curriculum vitae
Personal statement
Photocopy of current state medical license
Photocopies of original USMLE examination results, or equivalent
Photocopy of ECFMG certificate, if applicable
Medical school transcript and MSPE letter (sent directly from the medical school)
Three letters of recommendation from individuals in your specialty (one from current or previous program director); must be sent directly from the individuals to the program director or program coordinator
Photocopies of visa/citizenship papers, if applicable
Photocopy of NPI number
Please email these documents to the program director, Danielle Anderson, MD, at danielle.anderson@nm.org.
Geriatric residents participate in supervised, collaborative, interdisciplinary clinical and didactic experiences, which provide training in the following:
Development of diagnostic and assessment skills
Application of biopsychosocial concepts
Experience and knowledge of illness, prevention strategies and a wide range of treatment modalities, including neuromodulation
Treatment of a culturally diverse population of older adults with a wide range of psychopathology in a broad range of clinical settings
Psychological and social aspects of gerontology, including normal aging and the pathology of primary psychiatric disturbances beginning in or continuing into older age
Psychiatric impact of acute and chronic physical illnesses
Recognition of and negotiation of legal and ethical issues
Evidence-based clinical decision-making
Educational leadership
Inpatient geropsychiatry at the Stone Institute of Psychiatry
Outpatient geriatric psychiatry specialty clinic
Diagnostic evaluations
Pharmacological management
Individual and family psychotherapy
Palliative care
Consultation liaison at Northwestern Memorial Hospital
Neuropsychology
Electroconvulsive therapy
Transcranial Magnetic Stimulation
Continuity Care Clinic, inpatient consult liaison and outpatient at the Jesse Brown Department of Veteran Affairs Medical Center
Why Train With Us?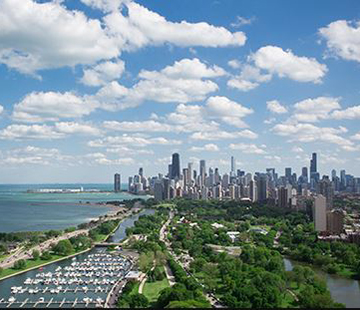 The Department of Psychiatry & Behavioral Sciences at Northwestern University Feinberg School of Medicine provides diverse clinical experiences and world-class education in the heart of the beautiful city of Chicago.