Curriculum
Didactics
The Northwestern Psychiatry Residency program provides high quality didactics to complement clinical rotations and experiential learning at clinical sites. Didactics occur during weekly protected time and include monthly journal club and grand rounds.
Examples of didactic classes include:
PGY-1: History of Psychiatry, Introduction to Interviewing and Case Formulation, Consultation-Liaison Psychiatry, Introduction to Psychopharmacology, Introduction to Psychopathology, Emergency Psychiatry, Brain and Behavior
PGY-2: Psychopathology, Psychopharmacology, Child and Adolescent Psychiatry, Cultural Psychiatry and Social Determinants of Mental Health, Supportive and Psychodynamic Psychotherapy, Forensic Psychiatry, Ethics
PGY-3: Character and Neurosis, Advanced Psychopathology and Psychopharmacology, Psychodynamic Psychiatry Case Conference, Adolescent Psychiatry, Borderline Personality Disorder, Family and Marital Therapy, Quality Improvement, Ethics, Cultural Psychiatry and Social Determinants of Mental Health, Neuroscience Case Conference
PGY-4: Professional Transitions, Advanced Psychopharmacology, Advanced Psychodynamic Case Conference, Neuroscience Case Conference, Ethics, Cultural Psychiatry and Social Determinants of Mental Health, Family Therapy, Advanced Treatment Seminar, Advanced Brain and Behavior
Clinical Rotations
All residents complete three months of internal medicine, one month of emergency medicine and two months of neurology. Non-psychiatric rotations are completed throughout the PGY-1 year. Residents may elect to substitute two months of pediatrics for two of their internal medicine months. The primary clinical focus of psychiatric training during the PGY-1 year is on learning to diagnose and treat acute and severe psychiatric illness in hospital settings. PGY-1s rotate on the Northwestern Memorial Hospital (NMH) inpatient psychiatry unit, Jesse Brown VA Medical Center inpatient psychiatry unit, consult-liaison psychiatry service at NMH and the partial hospitalization program at Ann & Robert H. Lurie Children's Hospital of Chicago.
In the second year, residents solidify skills managing acute, severe psychiatric illness on inpatient psychiatry, consultation-liaison psychiatry and emergency psychiatry rotations. Night float at NMH, geriatric psychiatry rotation, child and adolescent consultation-liaison service rotation and electroconvulsive therapy (ECT) training also occur during the PGY-2 year. Outpatient psychotherapy training and supervision start in the second half of this year during Immersion Clinic. PGY-2s have dedicated elective time to explore individual career interests.
The primary clinical focus of the third year is learning to treat psychiatric illness in outpatient settings. In Resident Continuity Clinic at NMH, residents have their own caseload of patients with direct supervision in real time from faculty. Residents see patients for individual psychotherapy and meet with a psychotherapy supervisor. Residents also rotate in two faculty subspecialty clinics each week to develop greater expertise with direct supervision from faculty experts (e.g., neuropsychiatry, women's mental health, first-break psychosis, anxiety disorders, young adults). Residents spend one half day a week at the VA gaining experience in treatment of substance use disorders and community psychiatry.
Fourth-year residents continue with a minimum of two half days' outpatient work at NMH. The rest of PGY-4 is spent in elective rotations both at Northwestern and at other sites of residents' choosing, including research or administrative experiences. Residents also spend one evening a week for six months at The Family Institute, where they will have family and couple's therapy cases with weekly supervision.
Specialized Programs
We offer two specialty tracks for residents with a career focus on research or medical education. The McGaw Clinical Scholars Programs are also available to complement clinical training for residents or fellows with interests in bioethics, global health, health equity and advocacy, or medical education career paths. Additionally available to residents is the Kellogg Fast-Track MBA Program, designed to prepare trainees for leadership roles in healthcare systems and organizations.
Contact Us
For more information about the program, contact our housestaff coordinator.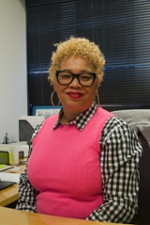 Mia Reed
Housestaff Coordinator
mccollin@nm.org
312-926-8058